York Powerhouse Powerplant Engines and Transmissions
York Sports Cars Inc.'s Powerhouse Powerplant engines and transmissions for 5.0L/302/351 Ford or 350 Chevy engines come complete, ready to be installed. Please call 804-798-5268 for pricing.
The engine is mounted to the transmission, hot test-run, and ready to be installed into your car.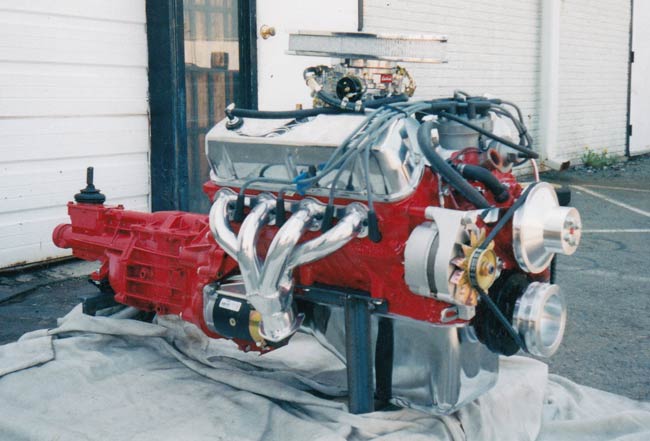 York Engine and Transmission ready for a Cobra
Your York Sports Cars, Inc.'s Engine and Transmission Specifications
Your choice of horsepower setup ranging from 300 to 500.
12-month or 12,000-mile (whichever comes first) limited warranty
Precision machined 351 W block
Precision ground polished crankshaft
Hypereutectic heavy duty pistons approximately 9:1 compression ratio
Chrome moly rings
3 piece steel roller style timing chain
H.O. Blue Racer hydraulic camshaft delivers mid range horse power and excellent low range torque
Mellings oil pump
World product Roush Heads
2.02 stainless steel polished intake valves
1.60 stainless steel polished exhaust valves
Competition cam roller rockers
Hard valve seats for unleaded or regular fuel
Heavy duty valve springs
Heavy duty push rods
Balanced rotating assembly
Front sump oil pan
Timing chain cover with scale
Cobra aluminum valve covers
New heavy duty Ford Motor Sports flywheel
Ford Motorsports King Cobra heavy duty clutch, pressure plate and throw out bearing
Edelbrock dual plane intake manifold
Stainless steel intake bolts and washers
New 4 barrel 750 C.F.M. Edelbrock chrome carburetor with electric choke
Cobra oval quad air cleaner
High voltage electronic distributor with electronic box and coil
180 degree thermostat and housing
New water pump
New fuel pump
Chrome dipstick
New fuel line and fuel filter
Starter and alternator
Oil filter
Plugs and spark plug wires
Wire looms
Ford Motor Sports billet aluminum pulleys
New V-belt installed and tension adjusted
Transmission – ***New*** Ford T-5 five speed  remanufactured T-5 available also
Ford aluminum bell housing
6 inch shifter and leather knob
Transmission mount
Engine and transmission painted Ford Blue
Engine and transmission mated together, Hot Test Run, includes setting initial timing and carburetor adjustment
Optional Upgrades
Aluminum heads
***New*** Tremec five-speed transmission
***New*** Tremec bellhousing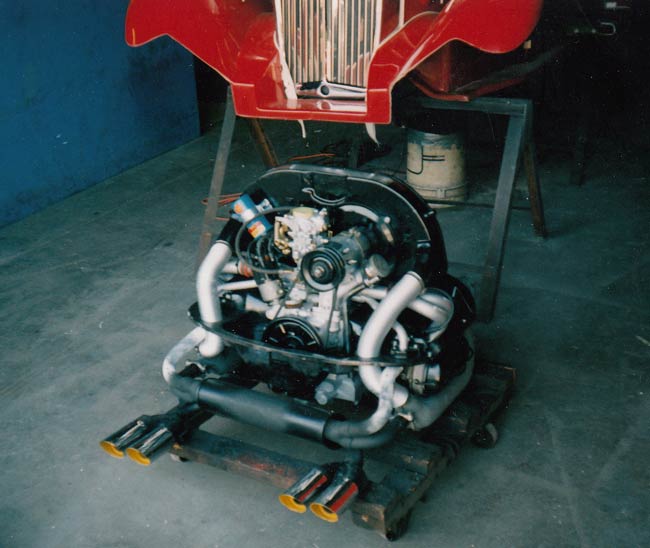 York can provide remanufactured VW engines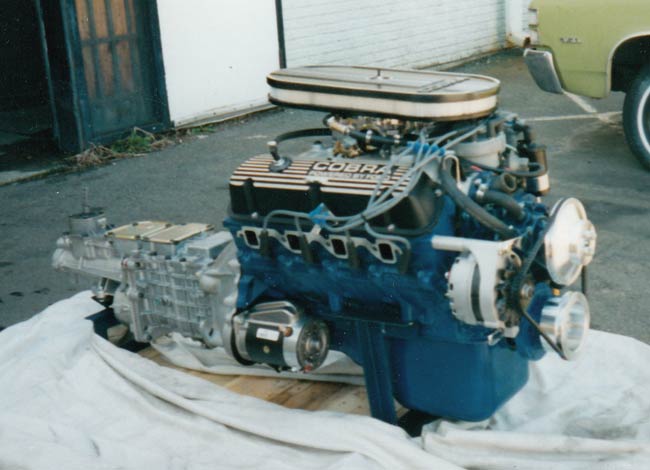 Another York Engine and Transmission ready for a Cobra